Orthopedic Knee Pillow
"Love this pillow between my legs it helps with posture and sleeping comfortably. Highly recommend"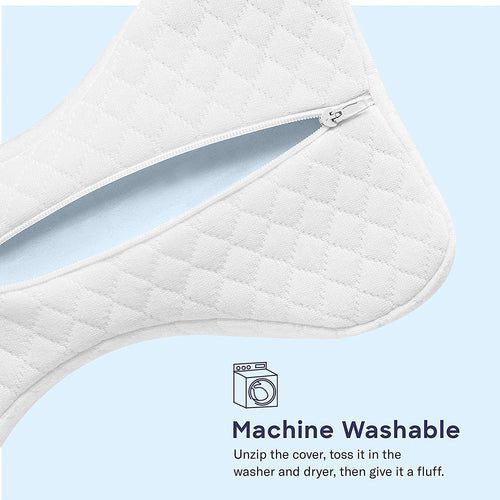 Orthopedic Knee Pillow
"Love this pillow between my legs it helps with posture and sleeping comfortably. Highly recommend"
Weighing Your Options: Weight Chart
We recommend selecting a weighted blanket weight that is about 10% of your body weight. If you're unsure or between two weights, go with the lighter option.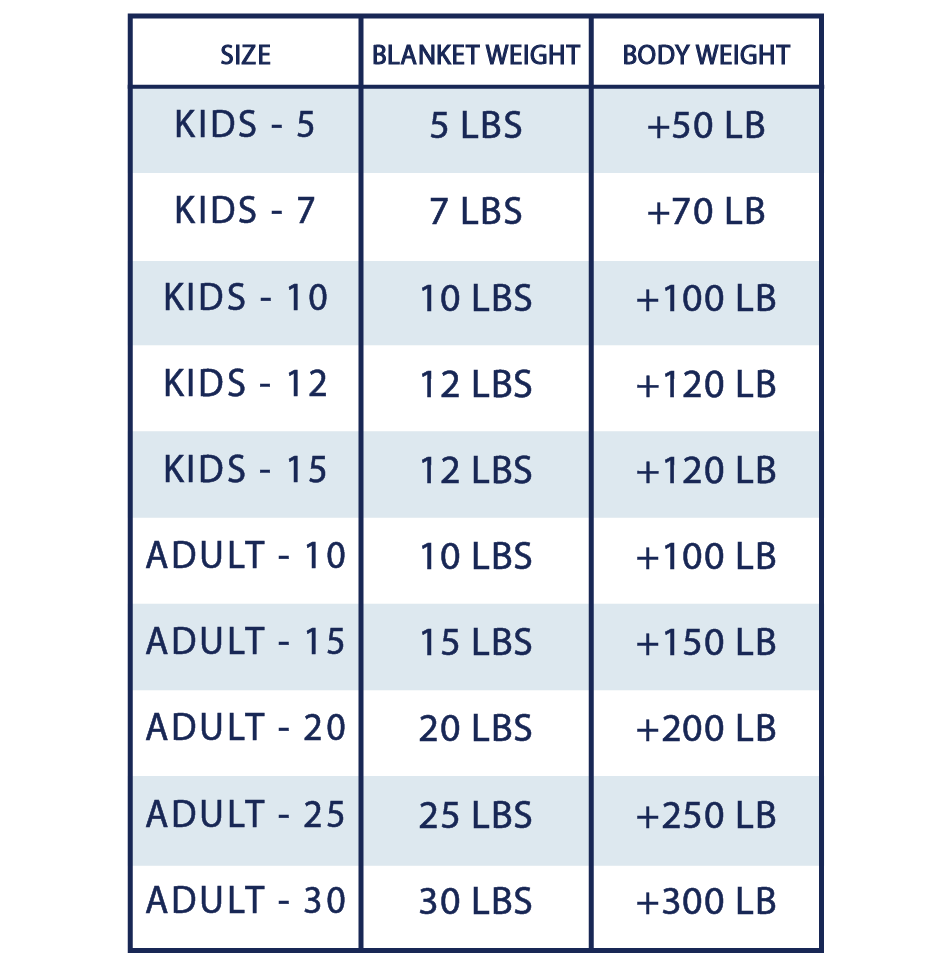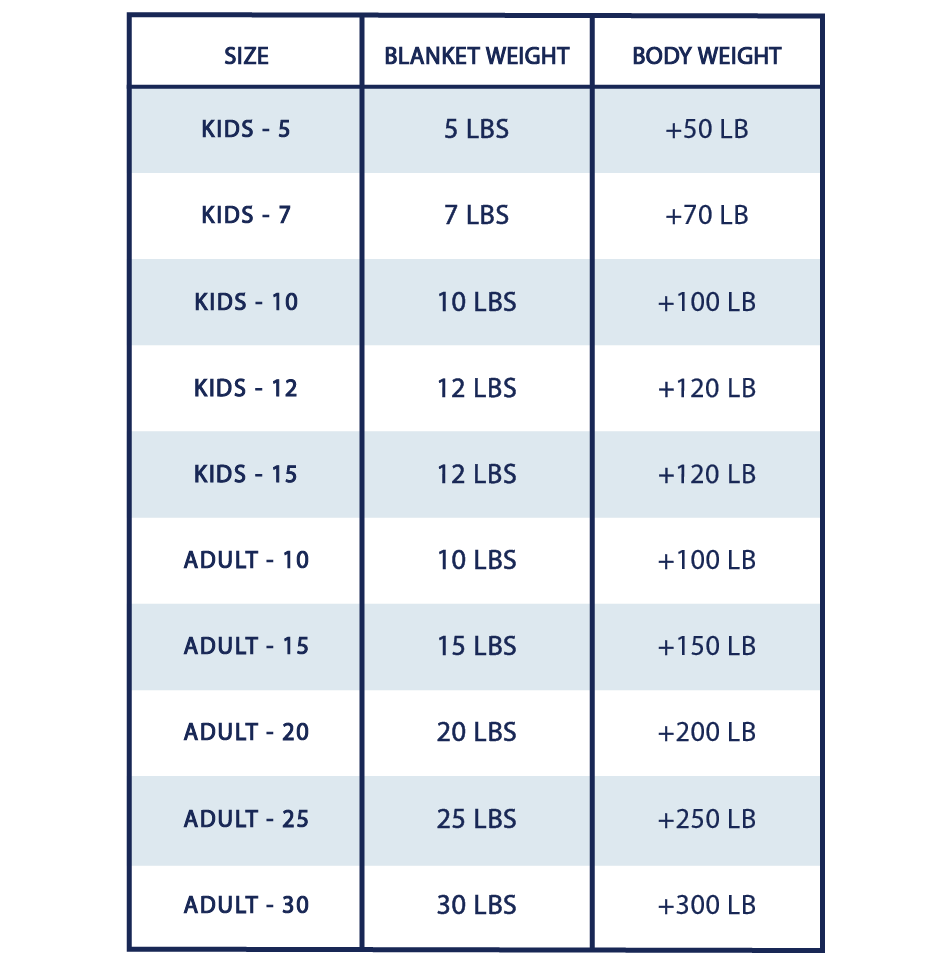 Benefits
▲
Our memory foam knee pillow is designed to fit comfortably between your knees and provide maximum comfort. The responsive foam accommodates all sizes and sleep positions. The end result? A deep, comfortable, and restful sleep.
Sciatica, back & hip pain relief
Spinal Alignment
Pressure Relief: improved blood circulation due to alleviated vessels compression.
Details & Care
▲
CertiPUR-US® Proprietary Responsive Memory Foam: Our foam contours to your comfort for all sleep positions and allows greater ventilation.
All around relief:
Great Contour & Support: distributes weight evenly, avoiding unecessary tension; eases pain in the back, legs, hips, joints, and sciatica nerve.
Spinal Alignment: allows you to sleep all night long and feel revitalized after waking up.
Pressure Relief: improved blood circulation due to alleviated vessels compression.
Ergonomic, innovative design.
The Orthopedic Knee Pillow is soft and supportive, giving you a welcoming feel that stays comfortable in any position while providing liquid-like quality that contours to your body, aligns your spine, and improves circulation.
Soft + Breathable
Engineered with hundreds of ventilation channels for maximum airflow while the foam adds a fluffy feeling. Plus, it's hypoallergenic!
Natural Comfort
Our memory foam is CertiPUR-US® and made from chemical-free materials.
Machine Washable Cover
The cover features a zipper that makes it easy to remove and throw in the washer.
The Weighted Blanket
The evenly distributed weight stimulates the release of serotonin (the happy hormone), increases melatonin (the sleep hormone), and reduces cortisol (the stress hormone).
Supportive & Adaptive
Our responsive, adaptive, premium foam gives our pillows the supportive, liquid-like quality that moves with you.
Shop All Bedding & Sleep Products
Ok, not what I expected
Not what I was expecting. It's ok but only hood for one leg if back sleeper
Good pillow. Twice the zip has burst.
Love this knee pillow. But this is my third, twice the zipper burst.
Relieves lower back pain
I wanted to tell you how much I love my new Luna memory foam knee pillow! My physical therapist had recommended that I sleep with a pillow between my knees and I tried that and it made my back pain worse! My friend said to try this out, I did and I love it! I finally had a full nights sleep with it between my legs and my back pain was not exasperated. it was improved! I just wanted you to know that you have a happy customer!
Supportive and Comfortable Knee Pillow
Initially, I was concerned with the stiffness and softness of the knee pillow, however after a few days use I found it extremely supportive. After using the product for a few weeks now it's extremely comfortable and is part of my nightly sleeping routine. I have other family members who may need to give this a try. As a shoulder sleeper is great.
I'm very happy with this purchase and will return to Luna for other sleeping products. I'll have to explore their catalogue of I have another sleeping aid need in the future.
Great pillow!
Super great pillow! The softness is great and so is the fit. Also, it arrived three days earlier than I expected, which was a nice surprise. This was my first time ordering from Luna so I wasn't sure what to expect (especially ordering online and not seeing the product in person before ordering), but I will definitely be ordering from them again! My quality of sleep has definitely gone up!
Added comfort for side-sleepers.
I grabbed this cushion on a whim because I'm a dedicated side-sleeper and I figured why not try it? I love it. I used to scrunch the comforter between my knees for support, but this is so much easier and significantly more comfortable, for obvious reasons. It does exactly what it needs to do and I've been sleeping happily with it nightly. Highly recommend if your knees and quads need some support while you sleep.
Two thumbs up
I'm actually pretty impressed with this pillow. It's very soft but it doesn't lose its shape. I've been struggling with lower back pain and this pillow takes just enough pressure off my back to do the trick.
Since I started using this
Since I started using this knee pillow no more back pain thank you.
Helps painful knees
I love this pillow! Super comfortable for my knees that hurt if they're pressing against each other while I'm sleeping. Can't sleep without it now!