Ready for Deeper, More Restful Zzzs?
Don't miss our sale collection! Get comfy and let Luna do the rest.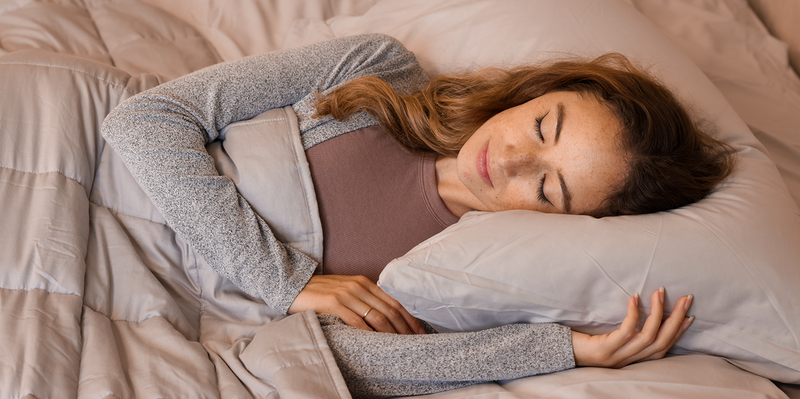 I barely moved the entire night, and woke up extremely relaxed. Leaving my bed was hilariously difficult.
Luna weighted blankets are a testament to the fact that you don't have to spend a fortune to find a great product.
Luna's Orthopedic Knee Pillow is an affordable and cost-effective way to kick back and sciatic nerve pain to the curb.
Better Sleep Based in Science
Optimizing rest is what we do best
From our premium weighted blankets to knee pillows and melatonin gummies, we're focused on innovating smarter products that help everyone get deeper, more restorative sleep every night.
Shop All Sleep
Features of Luna
What makes us different?
100% Oeko-Tex Certified
(For the Fussy Sleepers)
Our weighted blankets are sewn using natural, sustainable materials, such as Oeko-Tex Certified cotton for a good night's sleep.
Breathability
(For the Sweaty Sleepers)
With a multi layered construction, our blankets are designed to keep air circulating for the perfect temperature all night long.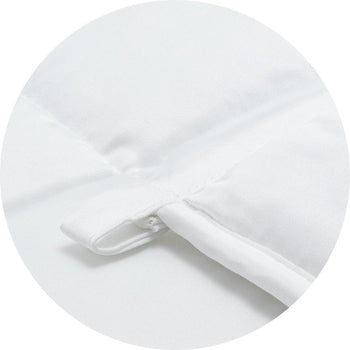 Premium Grade Glass Beads
(For the Non-Sleepers)
We use Glass Beads to reduce shifting and to allow for an even distribution of weight, so that you stay tucked in all night.
Luna
Gravity
Casper
Price (15 lbs)
$79
$189
$179
Warranty
Lifetime
N/A
N/A
Materials
Cotton & Glass Beads
Cotton & Glass
Beads
Polyester & Glass Beads
Oeko-TEX Certified
Yes
No
No
Machine Washable/ Dryable
Yes
No
No
Carbon Neutral
Yes
No
No
25,000+ Cushy Reviews
I was scared at first that it would be to warm but it stays cool throughout the night! The weight is perfect and I have been getting better sleep every night.
So grateful for how this blanket wraps you in a tight hug, and instantly brings a wave of calm. My sleep has been so much more solid since giving this a go!
I was bit skeptical but I am glad that I purchased this blanket. It has been a great purchase. Highly recommend!
Our daughter loves it! She's in college and she said she's had the best sleep every night since she got this for her birthday. She's in love with it!
The workmanship, fabric & overall quality is stellar. This is my first weighted blanket & I love it! Lures you back to sleep......
I love this blanket!!! My sleep has improved drastically. The only problem is that it's really hard to get out of bed now. :)
Finally caved in and bought a weighted blanket-- best decision I ever made. Had the best sleep in a while. Highly recommend!
Only reason I gave them 5 stars in every area is because this blanket is no joke, hands down comfortable everywhere
I'm finally sleeping better! I had a hard time staying asleep throughout the night, now I don't have that problem. It's the right weight and it's super soft.
The most affordable high quality weighted blanket out there. Immediately felt a difference.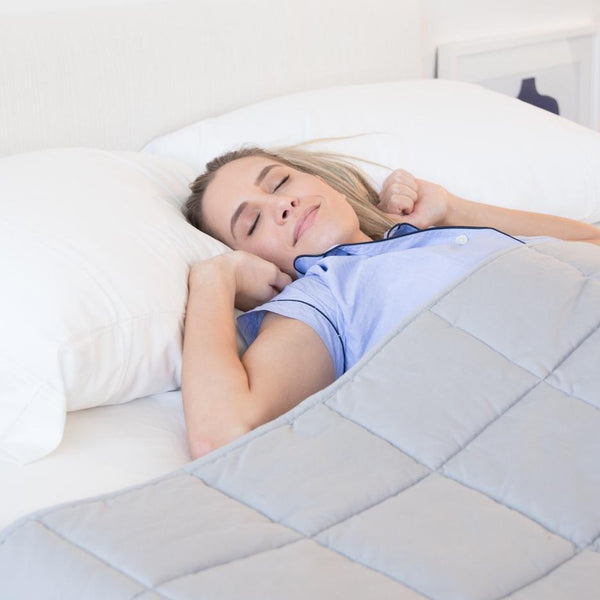 Good to Know
Free shipping on all US orders
2-Year warranty on all products
All products are machine washable
We use sustainable materials for our products
Shop All Bedding & Sleep Products