Minky Weighted Blanket Cover
"I love how this cover makes me feel all cozy! Good quality, stays in place!"
Minky Weighted Blanket Cover
"I love how this cover makes me feel all cozy! Good quality, stays in place!"
Weighing Your Options: Weight Chart
We recommend selecting a weighted blanket weight that is about 10% of your body weight. If you're unsure or between two weights, go with the lighter option.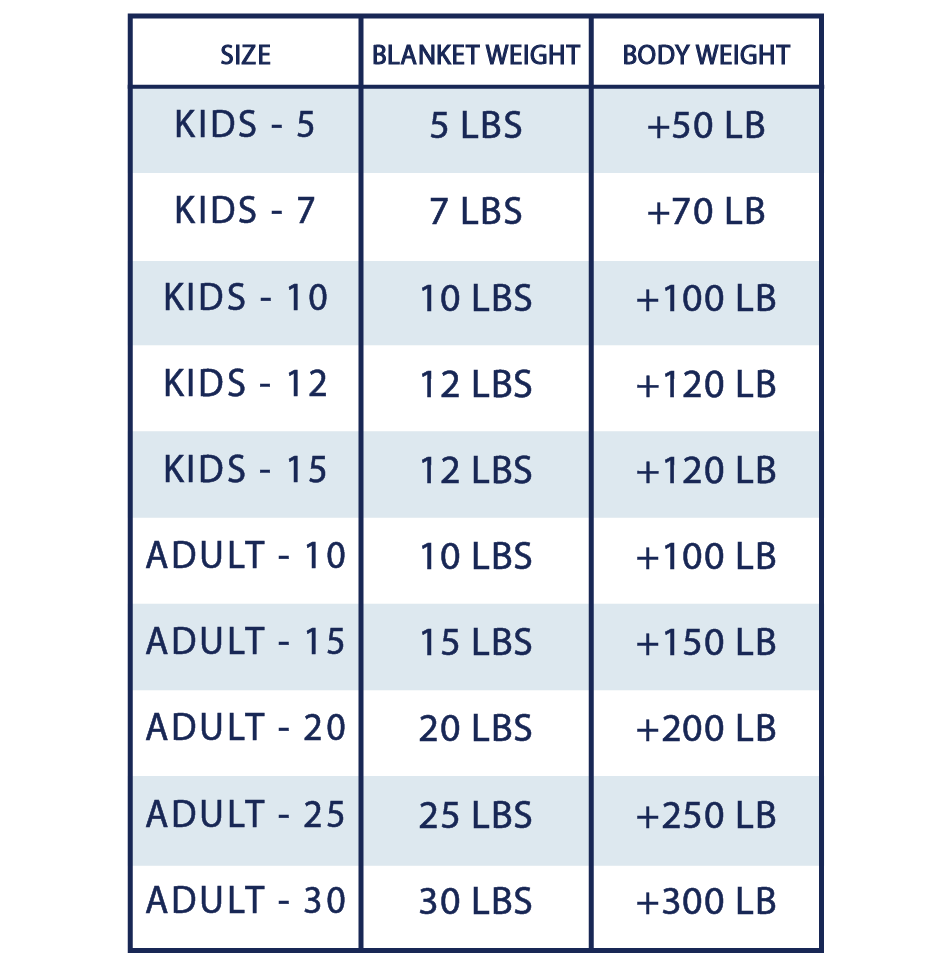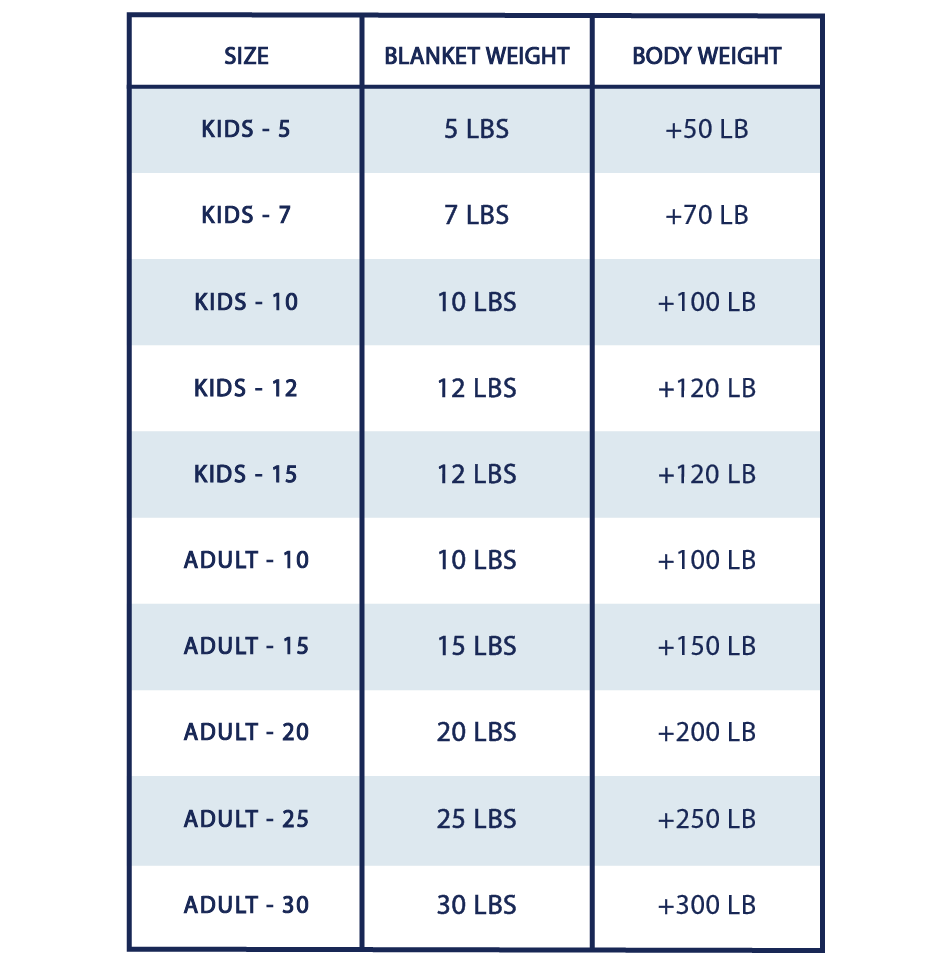 Benefits
▲
Ultra-soft, plush weighted blanket cover made to perfectly fit your Luna weighted blanket.
Convenient corner ties mean that your sheets won't shift. Our zipper closure makes the blanket easy to insert and take out.
Details & Care
▲
Care Instructions: Wash on a Low Gentle Setting | Dry on Low Heat or Hang Dry
100% microfiber
Hypoallergenic
Free of harmful chemicals
OEKO-Tex certified
Loops in every corner to accommodate cover ties
Size Guide
▲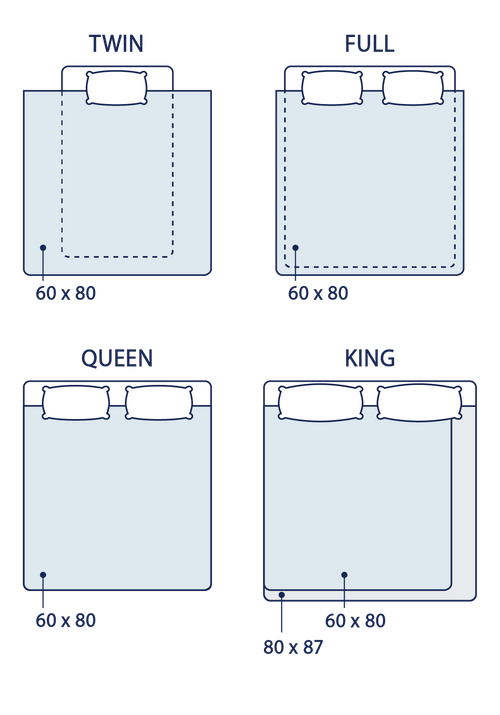 Features
OEKO-TEX® 100 Certified
Ultra-smooth minky fabric
Great Insulator
Machine-washable low + cold, hang dry
Free of harmful chemicals
High quality, smart design.
Our Fleece Cover is constructed using the softest ultra-smooth mink, one of the comfiest and sturdiest materials out there.
Clean Comfort
Incredibly soft with plush-like fabric, and OEKO-TEX® 100 certified, this cover is cozy and safe enough for a baby.
Easy to Use
Just tie your weighted blanket to the 8 hoops of this cover and you're good to go. Our zipper closure makes it easy to remove and wash.
Machine Washable
This cover won't shed or leave any excess strands around the house. And it's machine washable for easy cleaning.
The Weighted Blanket
The evenly distributed weight stimulates the release of serotonin (the happy hormone), increases melatonin (the sleep hormone), and reduces cortisol (the stress hormone).
More than just soft
Our Luna weighted blanket cover adds an extra layer of coziness for enhanced comfort throughout the year, from one season to the next. The duvet cover fits over your Luna weighted blanket, and it includes hidden closures for securing in place.
Shop All Bedding & Sleep Products
Cozy and pretty
Super soft blanket cover. Fairly easly to cover my 20lb weighted blanket. Only concern is living in an apartment and not being able to line dry, but super happy it is machine washable.
Surprising cool to touch
I had read a lot about the benefits about weighted blankets so I decided that Luna fit in my budget as well as fit my aesthetic requirements. I liked the fact that the minky weighted blanket cover is soft to the touch and surprising a little cooling (I'm a hot sleeper). I plan to get other covers.
Great Addition & Gift!
I gave this as a gift to my mother & she loves it! It was a great addition to her blue blanket to change up the color profile, and is very soft. She can't sleep without her weighted blanket anymore, and this cover made it even more cozy!
LOVE this weighted blanket cover!!!
This cover is amazing! It's so soft and comfy and the perfect cover for the weighted blanket! Cleaning the cover is very easy sine you can just throw it in the wash and it's done. This cover is a great compliment to the blanket and it's nice a cozy to have on.
I love my Minky Blanket Cover!
This is so soft! The minky texture is exactly what I was looking for, and the gray color matched what I was looking for. It's perfect for a couch throw or to use on the bed, I use mine for both!
Looks great feels wonderful. Make
Looks great feels wonderful. Make sure you get a cover for ease of washing
Excellent Blanket Cover!
Really soft cover that fits well over the weighted blanket.
Great purchase! Super soft and warm!
Super soft and fits the blanket well! The color is exactly as pictured. I plan to buy the same one for a friend because I liked it so much!
This cover is amazing in
This cover is amazing in that it protects the weighted blanket from spills and wear, therefore prolonging the life of the blanket. It holds the blanket in place and looks amazing. It is well made with high quality stitching and zipper closure. Very breathable and comfortable! We love it!
Super soft cover
I recommend the minky soft cover. It is REALLY soft an easy to clean.