Cool Luxe Weighted Blanket
Engineered with CoolLuxe™ cooling fabric that is cool to the touch and disperses body heat to keep you cool and ventilation channels provide maximum airflow while the silky fibers add a soft feeling..
New Arrival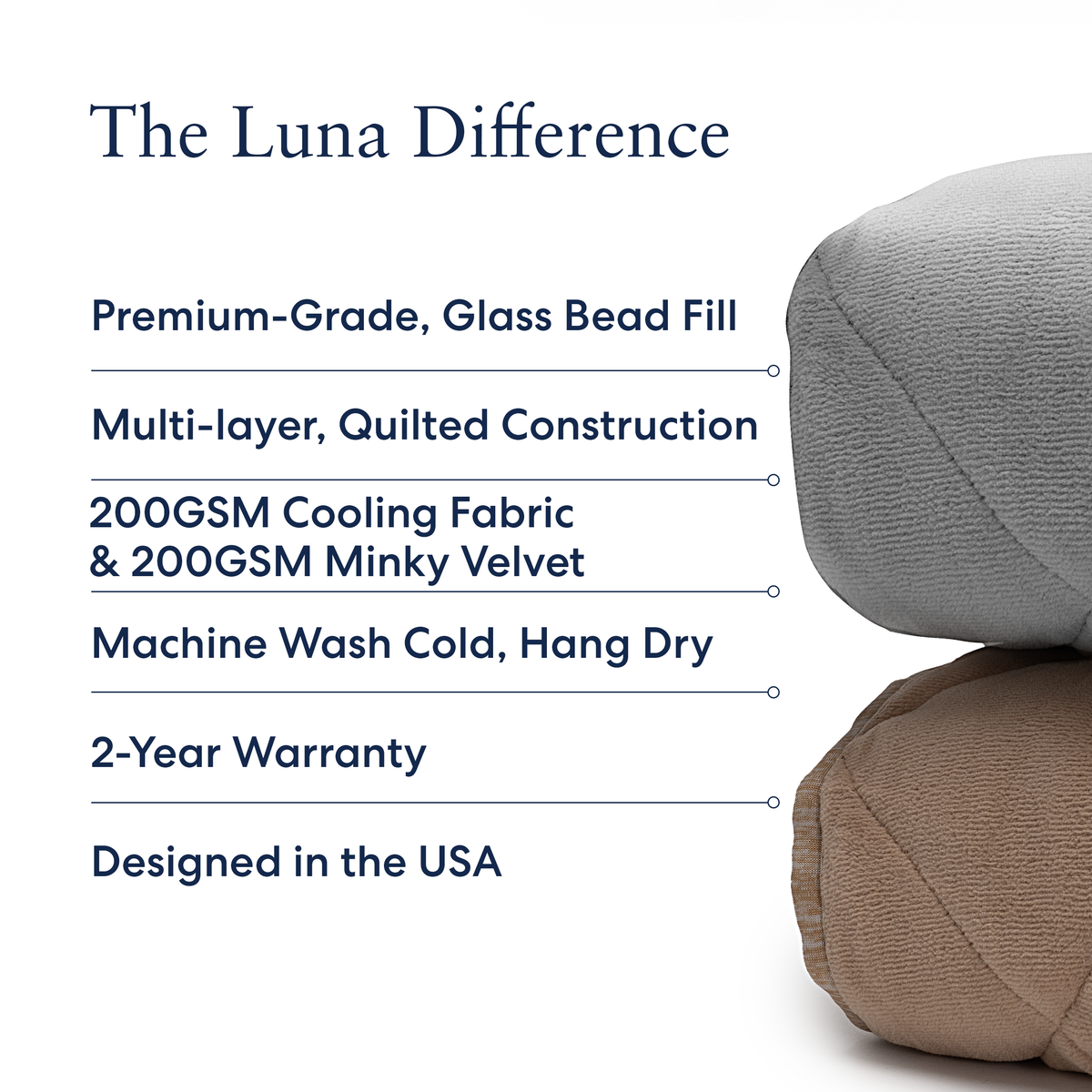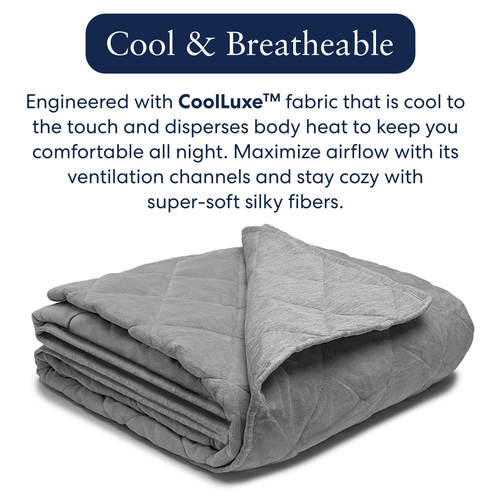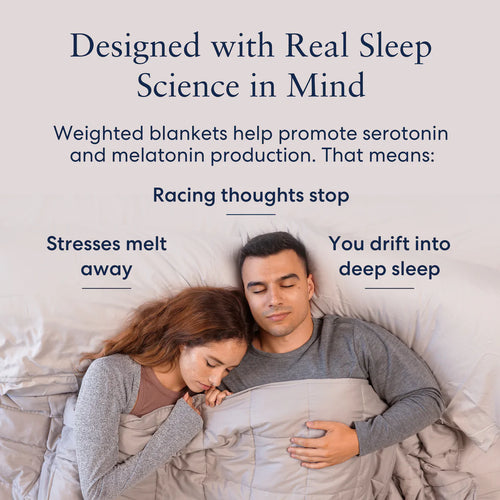 Cool Luxe Weighted Blanket
Engineered with CoolLuxe™ cooling fabric that is cool to the touch and disperses body heat to keep you cool and ventilation channels provide maximum airflow while the silky fibers add a soft feeling..
Weighing Your Options: Weight Chart
We recommend selecting a weighted blanket weight that is about 10% of your body weight. If you're unsure or between two weights, go with the lighter option.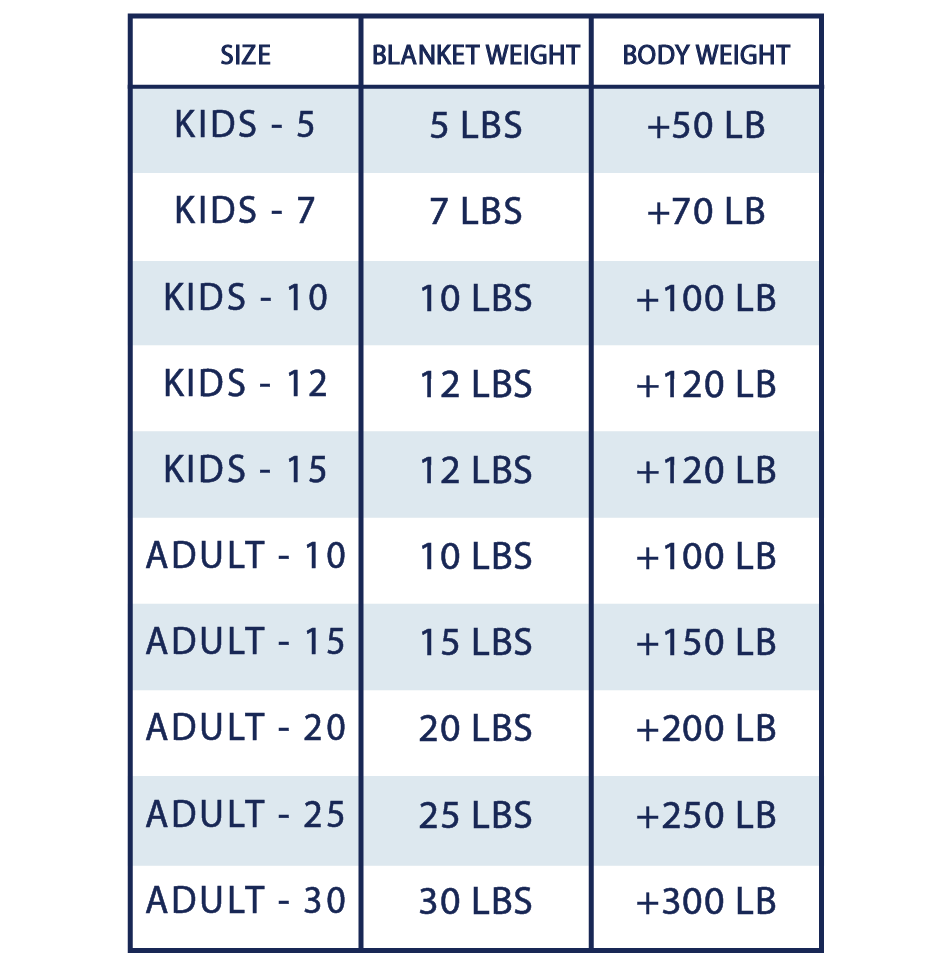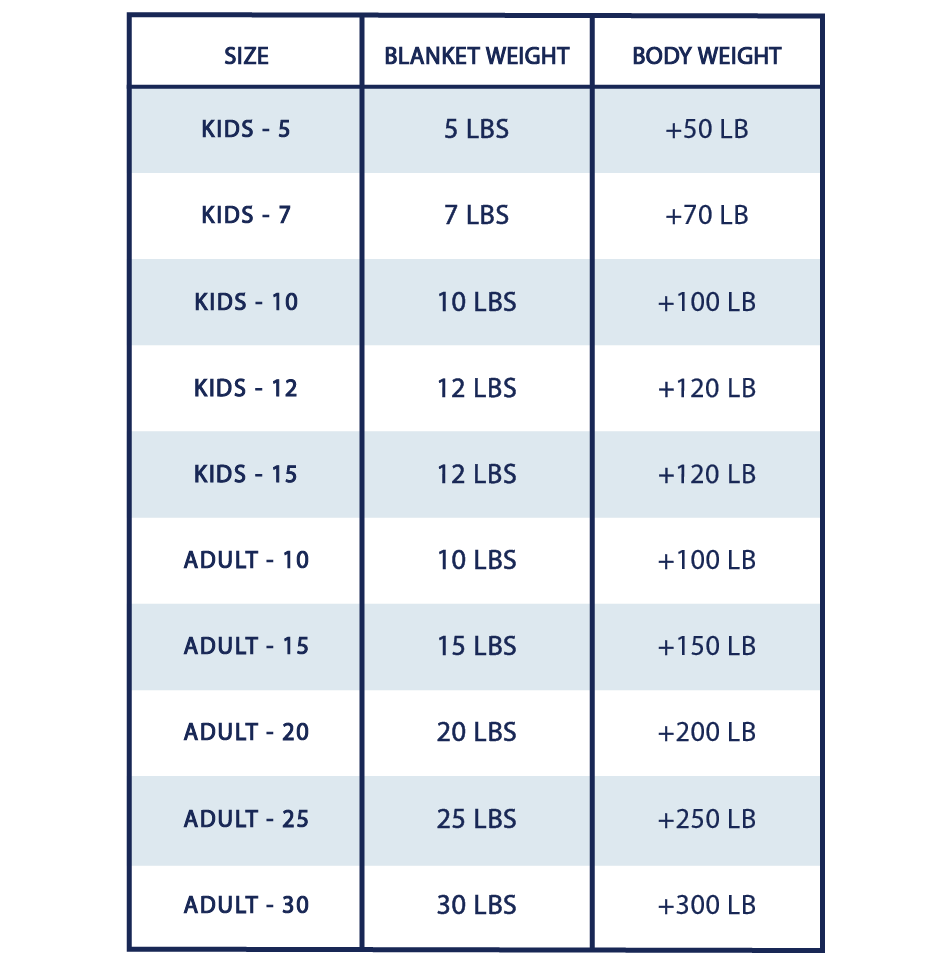 Benefits
▲
Minky Fleece Weighted Blanket features antimicrobial and cool-to-touch fabric. It evenly disperses heat and promotes airflow so you stay comfortable all night long (even if you run warm).  
**(Material – Face: (80% cooling nylon, 20% cooling PE). Back: 200gsm 75% cotton/25% polyester velvet).
Designed with CoolLuxeTM fabric, you'll enjoy a cool-to-the-touch feeling and never have to worry about overheating during the night as it works to pull heat away from the body. Optimal ventilation channels provide maximum airflow while minky fibers offer a silky and soft snuggle session.
The weight of this blanket is designed to provide the sensation and comfort of a warm hug to help you fall asleep faster and stay asleep longer. Its weight naturally stimulates your body's biochemistry to induce a calming effect, releasing serotonin and boosting melatonin production while in the comfortable cocoon of the blanket. 

The CoolLuxe™ features Polyethene Cooling Fibers that are intricately woven throughout the fabric, making this weight blanket cool-to-the-touch — ideal for those who run hot during sleep! 
Details & Care
▲
Wash: Hand Wash, Spot Clean or Dry Clean. ​
Dry: Lay Flat to Dry or Hang Dry
Size Guide
▲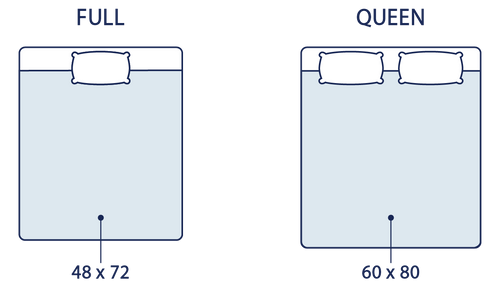 Luna can help to:
fall asleep faster
create a biochemical reaction to touch therapy
settle the nervous system through Deep Pressure Touch
induce calm and simulate a warm hug
...but don't just take our word for it. Check out the customer reviews.
The Cover
Our Blanket Cover makes cleaning your blanket a breeze. Your Luna Blanket has 8 loops to ensure a secure fit with the 8 ties on the removable, easy to wash, matching cover.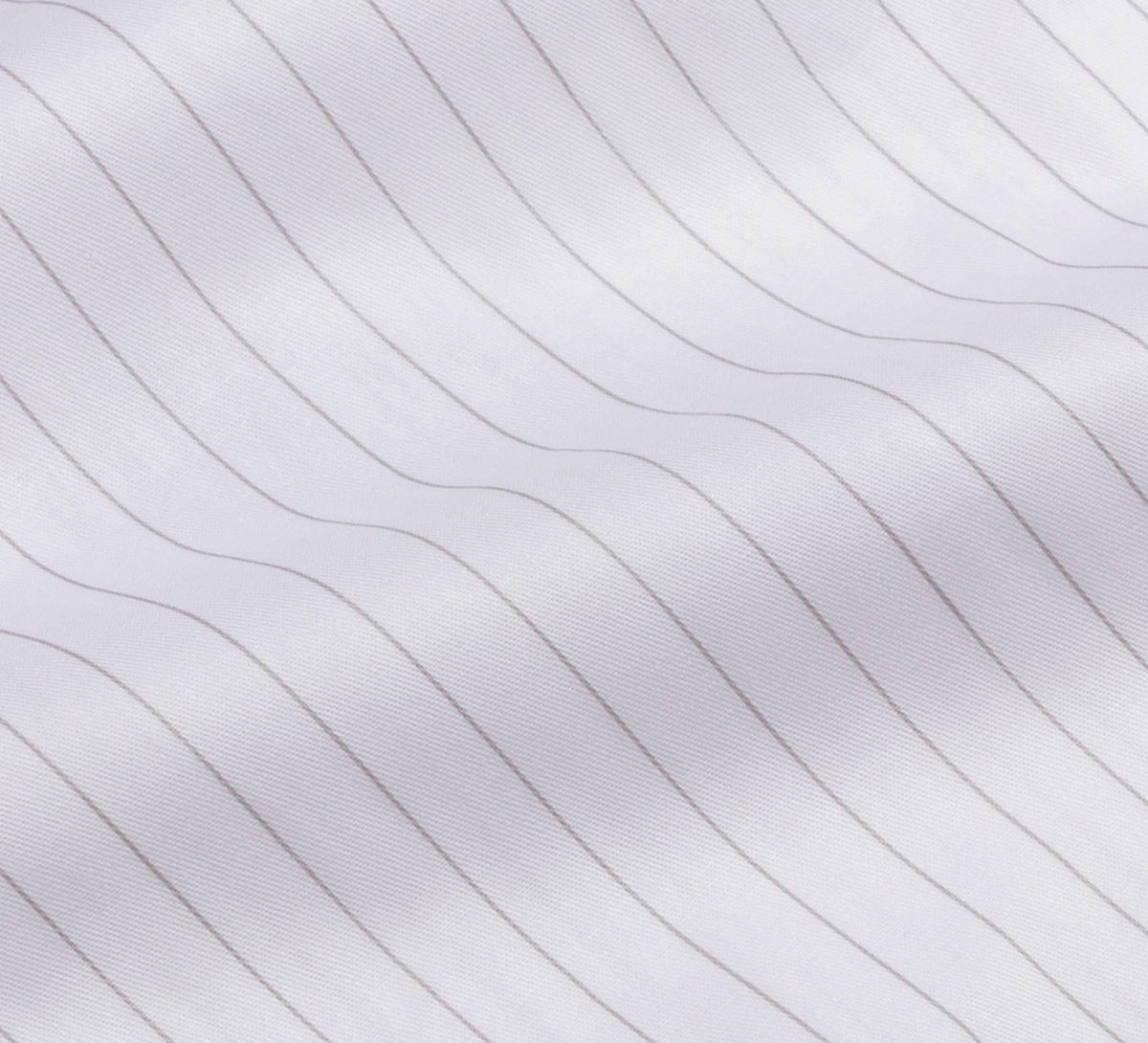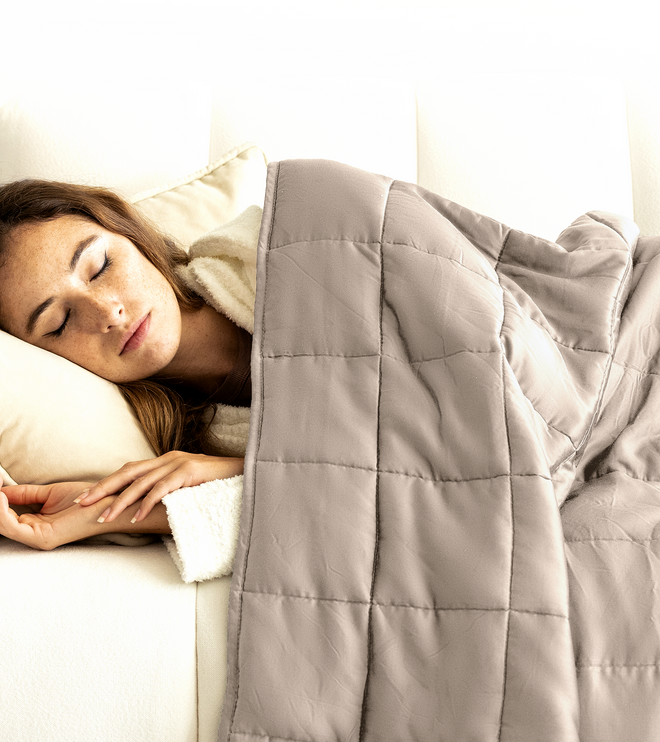 Use me gradually
It's important to gradually ease into your first use of your weighted blanket by placing it over your original comforter and across your legs for the first 7 nights.
After you've gotten used to the weighted sensation, lay it over 1/2 of your body for the next few days.
When you're feeling comfortable enough, you're ready to use it over your entire body (without the comforter). Give it time, scientists say it takes 14-21 days to form a deep sleep habit!
Shop All Bedding & Sleep Products
Kinda shocked at the difference in my sleep.
I'm neurodivergent and I've heard these are great but was skeptical. I'm also an insomniac with chronic pain. Falling asleep is really hard for me no matter how much I want to. This combined with a headphone blackout sleep mask has made that much better. It causes relaxation I won't try to explain (there is neuroscience behind it).

My Review Criteria: I do not review anything that I don't want/need for my own personal use and I have enough knowledge about it to provide accurate and useful details. I do tell it like it is and I am not influenced to provide feedback that isn't based on facts or my own experience. Therefore you can trust my unbiased review as if I were a friend looking out for your best interest and that of your hard-earned money.
Relaxation
This is a well thought out weighted blanket! I love that one side is for cooling and one side is for warmth. The full size is the perfect for one person throw or twin. My only wish is that it had a washable cover, I was unable to find a cover d/t the unique sizing.
Takes some getting used to
I've tried weighted blankets in the past, but they were always the wrong size-to-weight ratio. This one is just the right size for a single person. It's heavy. I weigh about 180 and it's taken about a week to adapt to the 12 lb blanket weight. The first night I fell asleep almost immediately under this blanket, sleeping on my back, which I never normally do. After about an hour I woke up feeling like I was suffocating so I removed it. Second night I slept for 2 hours, which I've found is my maximum. I sleep deeply for those 2 hours and then I need to remove the blanket and go back to sleep. If you've never slept under a weighted blanket you might need to be aware that it could take some time to adapt.
Very cozy and plush, yet works for not-so-cool temps
This has a weighted blanket and cover, and the cover really makes it. This is my second weighted blanket, and the other one I have does not have a cover. So this new one feels much more plush and comfortable to me. The color and texture of both sides of this blanket didn't translate well from the product images to what you actually receive – and I mean this in a good way, the images don't do it justice. My first is also 12lbs, whereas this is 15lbs, but this one doesn't feel as heavy on me. That might be due to the size, since this is a queen and my other is either a twin or a throw. So it could be more weight distributed over a smaller area. However, on cool nights so far I have layered this under a lightweight comforter and gotten just about the best sleep I have had in a long time. The color is a warmer beige, and the fuzzy side has more of a plushy sheen than it appears in the picture. The underside is a heathered fabric, and looks like it would run warm, but is a little more satin-ey than the t-shirt type material I was expecting. And therefore, it does feel much cooler than you'd expect just looking at it. While it's a queen size, it really covers the top of the bed without overhang. I'm fine with that, but just good to be aware. I also don't think I could comfortably use with a partner due to the size, as I like to hog and adjust to just my liking. I love that this one comes with a cover, and while I'm seeing a little bit of shifting inside of it (maybe a couple of inches), it isn't terrible and is easy enough to adjust back. This is also very pet friendly as I have several cats and dogs, and there's no snags or nails caught anywhere on it. Makes it a win in my book!
heavy, soft, nice quality materials
We heard from a friend that this Luna weighted blanket was a useful approach to better sleep, offering a unique feeling of comfort. It certainly does give comfort, but takes a bit of getting used to after sleeping with nothing but a sheet.

One of us loved it right away, the other did not appreciate the heaviness, although, surprisingly, it did not retain a lot of body heat like other thick blankets.

If your personal preference allows a rich heavy envelope of soft cover during sleep, you'll probably find this weighted blanket truly comforting.
Very well made weighted blanket
This is a very well made blanket as far as I can tell. All the seams and stitches seem very secure and the material itself is gorgeous. It's super soft and silky cool on one side and the other side is the microfiber that feels like soft suede. And it's most definitely a weighted blanket. It's HEAVY. I am thrilled with this blanket. Also it says on the description that it is not the normal size blanket and that is correct. If you want it to fall over the sides of your bed you will have to get a larger size. It's so heavy they actually made it less wide than it should be so it's weight doesn't drag it off the sides of the bed. With that in mind, I would consider this an individual blanket and not one that is large enough to share.
The blanket you don't know you need
Hands down my favorite blanket. I love the weight with it and it really does have a great cooling factor. It was 100% the blanket I never knew I needed!
Love this blanket
This weighted blanket is of great quality. The material is nice being a soft smooth cooling effect on one side and velvety and warm on the reverse. It is weighted evenly. Even though it's cooling, I still find I sweat if I wear clothing to bed, but I'm also menopausal. This has a very distinct cooling effect especially when you first cover up with it. Highly recommend!
weighted blan
I fell in love with weighted blankets. My wife bought me one from Amazon for our Anniversary. I had to get another for when I washed my first blanket. It never hurts to have a second on hand. The Blanket weighs about 20 pounds. It feels awesome on me while I go to sleep. It makes me feel like when I was younger and my mother came in and tucked me into bed. It gives me the support I need to keep still while sleeping. I do not toss and turn as much with the weighted blanket. It does great in the washer and dryer. it comes out perfectly fine. I'm so glad my wife gave me one for my anniversary.
Best Sleep Ever
This blanket is heavy but not to heavy. I slept so much better. Its so soft on one side other side is cooling. This is an amazing blanket.