Classic Cooling Weighted Blanket With Covers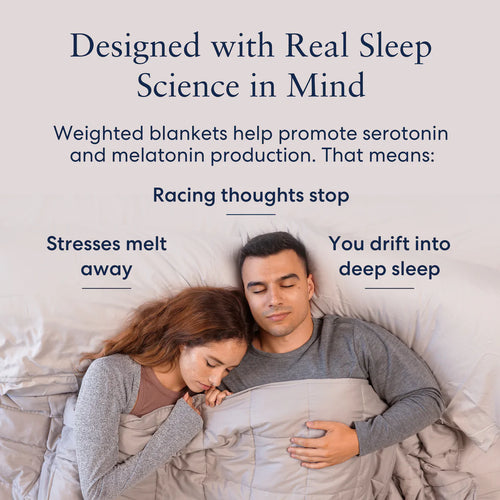 Classic Cooling Weighted Blanket With Covers
Care Instructions: Wash on a Low Gentle Setting | Dry on Low Heat or Hang Dry
Outer Shell: 100% Polyester
Filing: 100% Polyester made from recycled plastic bottles + medical-grade glass beads
Cover Materials: Cover 1 – 100% Cooling Polyester / Cover 2 – 100% Polyester Fleece
Hypoallergenic
Naturally-dyed & free of harmful chemicals
OEKO-TEX® 100 Certified (HKX 17867)
8 loops on every corner and side to accommodate cover ties
Print: Light Grey
Size: Twin 41x60
Weight: 10 lbs
Care Instructions: Wash on a Low Gentle Setting | Dry on Low Heat or Hang Dry
Outer Shell: 100% Polyester
Filing: 100% Polyester made from recycled plastic bottles + medical-grade glass beads
Cover Materials: Cover 1 – 100% Cooling Polyester / Cover 2 – 100% Polyester Fleece
Hypoallergenic
Naturally-dyed & free of harmful chemicals
OEKO-TEX® 100 Certified (HKX 17867)
8 loops on every corner and side to accommodate cover ties
Great value
Great quality for the price
They didn't even put it together for me
It was like a puzzle of how should I do this in terms of making it fit. I slept for 4 days without a cover on it because it just didn't come on it. No ideal. Wouldn't buy from them again but hey the blanket works
It's great but very hot
I love this blanket, It's my first weighted blanket, but it works great and I love that the covers are removable for easy washing.
Even with the cooling cover it's still VERY HOT to sleep under. I am someone who is usually quite cold but I have woken up sweat soaked under this blanket. I was able to adjust my sleepware which helped a lot. It's not enough of a problem for me to stop me from using it
Been helping me with sleep and looks aesthetic.
Love it!! I got it for my partner for our anniversary and it's big enough for both of us.
She ain't heavy, she's my blanket
When I first heard about weighted blankets, I was like, who on earth would want that? It's insane!
But I'm here to tell you that they are awesome, and you should give one a try. You will become a believer.
Anxiety? Restless legs? Float too much while sleeping? You need this. What are you waiting for?
Excellent. Only downside is the
Excellent. Only downside is the sides are not tied so you have to do that manually otherwise it starts to become loose
works great for sleep
gave this to someone as a gift. they said it has helped them with deeper sleep
Better for the count
Joy in sleeping soundly and tightly; these are the benefits of having Luna on you!
Great Gift!
Ordered this as a gift for my dad (~170-180lbs so I got 20lbs) and it was perfect! The quilting helps distribute the weight evenly (compared to my cheap target blanket).
Def order the bundle - it's great deal. He also loved the color (navy is his favorite) and the queen size was a great fit for him (5'7)