🏆 Winner of 2023 Good Housekeeping Best Bedding Award 🏆
Classic Cooling Cotton Weighted Blanket
Limited Time Deal — While Supplies Last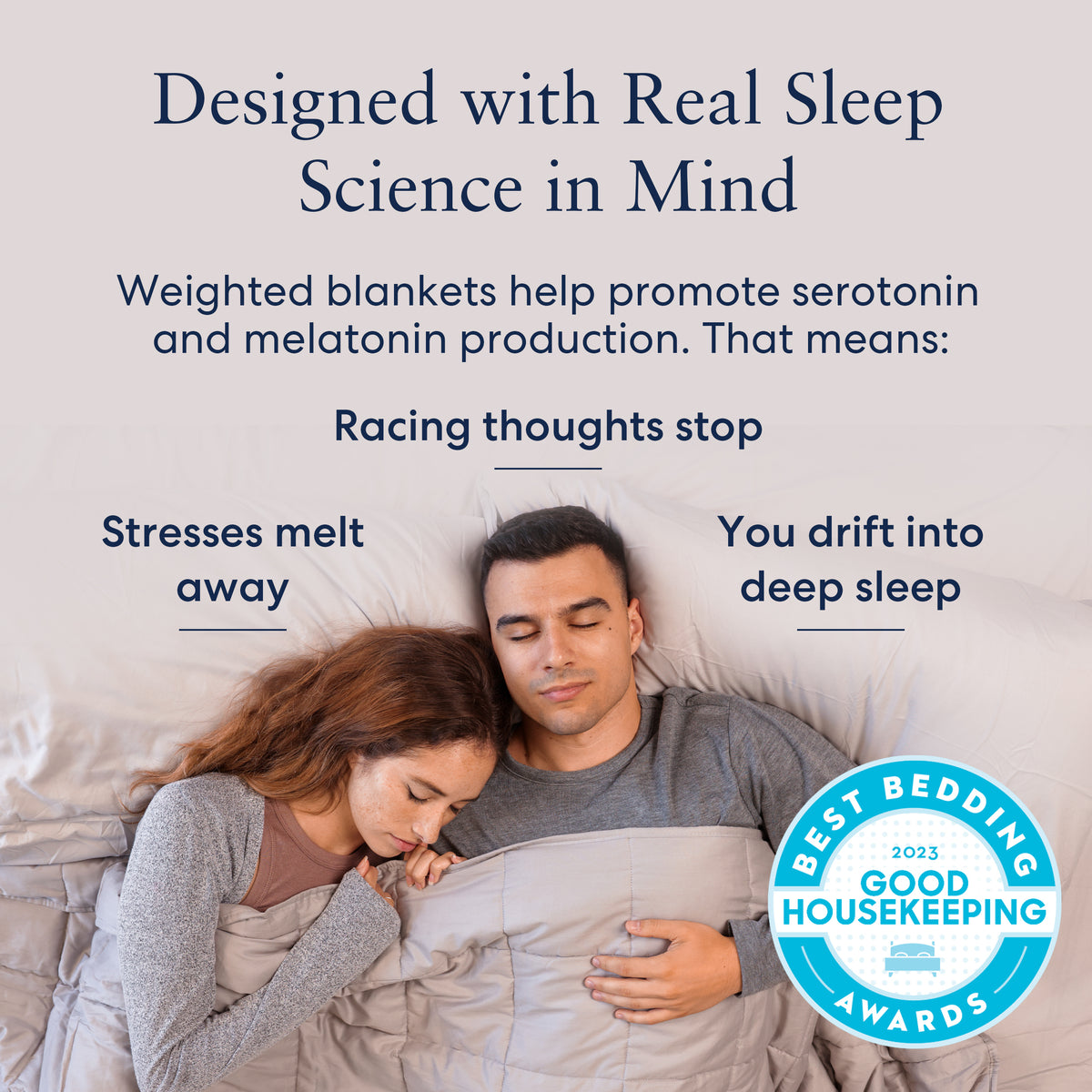 Classic Cooling Cotton Weighted Blanket
Limited Time Deal — While Supplies Last
Outer Shell: 100% cotton
Filling: 100% polyester & microfiber + glass beads
Hypoallergenic
Free of harmful chemicals
OEKO-TEX 100 certified (HKX 17867)
8 loops on every corner and side to accommodate cover ties
Print: Dark Grey
Size: Queen
Weight: 15lbs
Outer Shell: 100% cotton
Filling: 100% polyester & microfiber + glass beads
Hypoallergenic
Free of harmful chemicals
OEKO-TEX 100 certified (HKX 17867)
8 loops on every corner and side to accommodate cover ties
Luna can help to:
fall asleep faster
create a biochemical reaction to touch therapy
settle the nervous system through Deep Pressure Touch
induce calm and simulate a warm hug
...but don't just take our word for it. Check out the customer reviews.
Great sleep
Love the weight and I sleep like a baby.
Weigtrd blanket.
Only had one night under it but I like it so far ! Pretty color and good quality
best thing I've ever bought
I've been using this weighted blanket for years now and it has very much improved my sleep. I sleep FAR less restlessly now than I did before getting this blanket. not only is it extremely comfortable to sleep under at night, but lying under it can even help to calm me if I'm having an anxiety attack, migraine, or bout of overstimulation. and I came onto the site trying to figure out if I should get a cover because I've been dry cleaning it (which is a pain in the rear end), and now I find that I could have been machine washing it this whole time. excellent. thank you luna !
Best weighted blanket I have ever had!
This blanket doesn't seem to have a chemical smell to it!
Great wicking
So far one of the nicer blankets I've used the beads aren't intrusive and I don't wake up sweating.
Dog hair magnet no matter how much I clean it.
My husband gave me the 15lb twin blanket as a gift. I really liked it. Although I have 2 major complaints 3 if we want to nit pick. First is that the blanket produces so much static electricity that trying to keep hair off of it. Is like trying to shovel water out of a raging river, not a fun time. Its the price we pay for living with pets. I wanted to get a larger blanket for the bed and was hoping that they made a king size Sherpa fleece one because it does not collect the hair as bad, sadly they don't my little nit pick there. My second complainant, is the size guide was basically useless in helping us to determine the right size for us. Because it was not telling us the difference between the measurements of the blanket versus the the stander sizes of the bed measurement, making it frustrating to decide what was the best size for us. It was a poorly designed chart. We settled on a 25lb king size blanket for a queen size bed to have some over hang that the dog hog from us and making everyone happy.
Buy it for life-changing sleep
This weighted blanket changed my life. Dramatic, but let me explain.
I've been a stomach sleeper all my life. I know it's the universally agreed-upon worst position to sleep in for your body, but it just felt so cozy. I also have multiple spine conditions, meaning I *really* shouldn't sleep on my stomach. Yet I could never fall asleep on my side or back.
My blessed fiancé bought me a Luna weighted blanket, and I am not exaggerating when I say from the first night I used it, I have not slept on my stomach once. 2 years later and I've never gone back. This blanket is so calming, comfortable, and has helped my physical health tremendously since I'm no longer contorting my already-crooked spike for 8 hours a night as I sleep.
So change your sleep and change your life with Luna. One note, be intentional about what weight you pick. My blanket is 10 pounds and when I naively slept under my fiancés 15 pounder, I woke up feeling like I'd been hit by a truck. Buy the right weight and sleep like a baby (on your back or side).
Incredible Blanket
I bought weighted blankets before, but now that I have a King size bed it was tough finding one that didn't crush you. I found Luna and was very happy with the quality, weight, comfort, etc.. If I could give this 10 stars, I would.